Recently our blogs have emphasized the incredible expansion of the stock of high-powered money required to monetize our debt-financed ballooning federal deficits.  Further, we have noted the fact that private banks are effectively being kept on the sidelines by onerous capital requirements, federally mandated lending regulations, or interest payments rewarding them for not lending.  The summary picture that emerges is not a pretty one—but it is a sadly understandable one.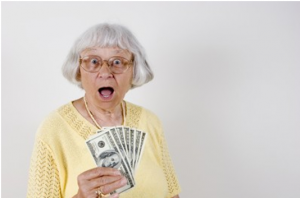 We have an usurping government that is trying to co-opt and control the U.S. lending market.  It is apparently less and less a "market" and more and more a political arm of the government and its current political agendas.  The government's agenda is explained by the area of economics described as "Public Choice Theory."  Succinctly, this is the view that political incumbents within a government that possesses the power to "steal" from the private sector through borrowing, taxation, and fiat money creation will tend to reward those constituencies that voted for it at the expense of those who voted against it.
At the present time, things seem to be working well for the stealing.  The velocity of money is logically related to the opportunity cost of holding money.  As long as actual inflation and inflationary expectations are low, the government can issue and the Fed can monetize federal debt with reasonable success.  But what happens when the government inevitably becomes too greedy?  When deficits become too big? And when the required monetization becomes too large? And, yes, we would suggest that a trillion dollars a year of high-powered money expansion is too large to be sustainable.  Also unsustainable and intolerable is our current situation in which too much of our economy's scarce and precious private savings is being steered into inefficient public programs and expenditure.  The federal government's expanding student loan program is a prime example.
What will happen, of course, is that the traditional banking industry will probably die (it may be an anachronism anyway as we have argued in our recent book Capital as Money).  What else can happen to banks anyway?  They can only make politically approved loans, they are micro-managed and regulated as an arm of the federal government, and by Fed rate manipulation they are constrained to survive on near zero rates of return.  On the present course the traditional banking industry appears doomed for extinction.
When inflation does inevitably surge, a technologically efficient, rational private economy will display a shrinking willingness to be subjected to the sustained imposition of the inflation tax (read Chapter 5 in Capital as Money—the limits of monetary financing).  The empirical support for this conclusion lies in the frequent lament by central banks worldwide that the "effectiveness" of their monetary policies isn't what it used to be.  Translated, read this as "it isn't as easy to steal output from the private sector via printing paper currency as it used to be."  Velocity has become a market-determined variable rather than a technological constraint.  As prices rise because of government's attempt to increase its funding from inflationary financing, the velocity of money will increase.  Astute individuals will react to rising prices by increasing their transactions speed in an attempt to reduce their holdings of fiat money balances.  And in today's economy the limit of the electronic exchange of funds is literally the speed of light.
At the same time direct lending between lenders and borrowers (as opposed to bank or brokered lending) will continue to grow (as it already has) and private investment will be starkly preferred on a risk/return basis to holding fiat money or public debt.  If our government pushes too hard and becomes too greedy in fiat money issuance (and based on history, when have governments not?) then inflation will sharply rise, dissatisfaction with fiat money will mount, and the time will be ripe.  Ripe for what?  Ripe for the transition to a private market real money.  It will be time for a real logical medium of exchange and valuation:  Capital as money.